The COPD Assessment Test (CAT) is a questionnaire that will help you and your care team measure the impact Chronic Obstructive Pulmonary Disease (COPD) is having on your well-being and daily life.

It is scheduled to be taken on a regular interval once a week or once a month depending on your care plan configuration. On the day you are scheduled to take the CAT, its task will appear on your Actions screen. If you do not complete it prior to the scheduled time, you will receive a reminder which will also appear on the Actions screen.

iOS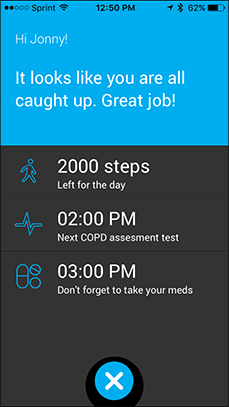 Android

Upon selecting the task, the assessment will begin. You will be presented a series of eight questions in which you are asked to assess yourself on a scale of 0 to 5.

How often do you cough?

How much phlegm (mucus) do you have in your chest?

How tight does your chest feel?

Are you breathless after walking up a hill or a flight of stairs?

Are you limited while doing activities at home?

Are you confident leaving your home despite your lung condition?

Do you sleep soundly despite your lung condition?

What is your energy level?

For each question, a response of 0 indicates a positive impact to your daily life, a response of 5 indicates a negative impact to your daily life, with the remaining response options indicating some degree in between.